If members have a pecan related question and wish to ask other members for their opinion, then follow the link to the APA Facebook page and post your query.
Questions and Responses will be posted on the website for all to see.
---
Question 1
Question from Dawn Thornton, posted May 2010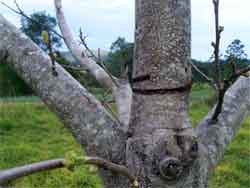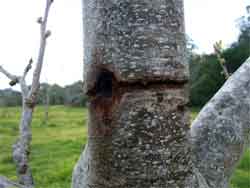 This 6 year old pecan has been girdled at about 1.6 metres above ground level by a bark-munching insect.
Does anyone know what the offending beast might be and is this ring barking likely to kill the tree?
Would I be better to prune the tree below the damaged area now or just leave it and hope the tree calluses over the damage?
Responses to Question 1
No responses so far…
---